Author: Leisa Rayven
Genre: New Adult Contemporary Romance
Publication date: December 23, 2014
♥ ♥ ♥
Book Description
When Cassie Taylor met Ethan Holt at acting school, sparks flew. She was the good girl actress. He was the bad boy about campus. But one fated casting choice for Romeo and Juliet changed it all. Like the characters they were playing, Cassie and Ethan's romance seemed destined. Until he broke her heart and betrayed her trust. Now the A-list heartthrob is back in her life and turning her world around. One touch at a time.
Cast as romantic leads once again, they're forced to confront raw memories of the heartbreaking lows and pulse-pounding highs of their secret college affair. But they'll also discover that people who rub each other the wrong way often make the best sparks.
♥ ♥ ♥
MY REVIEW
I write this minutes after finishing, emotions scrambled, eyes blurry (not from crying—it's not that kind of read) and heart pumping. Bad Romeo was a long book (my kindle location seemed to suggest it was almost twice as long as most novels). I'm not fast reader, but in my own way I read this fast! I didn't ever feel it dragging despite the length. Mentally I was doing fist pumps because I got to read and read and read without it ending too soon.
This is a love/hate romance, one that's quite dysfunctional, loaded with a buttload of chemistry between our leads, Cassie and Ethan.
Come the end of the novel I was scrambling hoping for even more, hoping that everything would work out. I don't put spoilers in my reviews, so you'll have to make do without me satisfying you with an answer on that latter point. ;)
This bit . . .
"It's like we're oil and vinegar. No matter how much we shake each other up, we're never going to blend."
"Cassie," she says, giving me her best heed-the-pearls-of-wisdom-I'm-about-to-impart expression, "you forget that even though oil and vinegar don't blend, they still make delicious salad dressing."
. . . perfectly describes the tone and storyline of the book. Cassie and Ethan butt heads. They act and think differently, they have different types of history (him with wayyyy much baggage) and together they pretty much shake each other up until breaking point. And, yes, by that stage they felt like what a fiercely shaken bottle of oil and vinegar looks like (if that makes any sense).
The angst in this book is off the charts. Like whoah, Colleen Hoover high. I was pretty much sweating, shaking and jumping in my seat begging for them to work out already!!! 
I bet if he entered his penis in a competition, it would win "Best in Show" and he could walk around with a giant blue ribbon stuck to his crotch.
If I asked nicely, I wonder if he'd use his pretty penis to remove my pesky virginity.
The novel is told from two times: when they first meet when Cassie, the main character, is nineteen and then three years later after he broke her heart and they spent all that time apart. Until now. They are the leads in a play together like they were three years ago.
The novel builds with rising angst because of their love/hate relationship, which brings me to the less awesome parts (which aren't terrible, just drove me a bit insane). I felt that Ethan pushed back at Cassie way more than he should have. As I lingered between 2/3 to the ending my frustration peaked. This lead to reservations about totally loving and connecting with the reasons they couldn't work out. These were okay, but my heart pounded for other aspects such as their chemistry, the parallels between them as leads in the play then and now, their quirkiness, Cassie's absolutely piss-yourself-laughing humour and Ethan's drop-dead sexy image. 
"That's it. I'm taking you home."
I shake my head, wishing he could understand that if I stay with him any longer, he'll unstitch me, and I really can't fall apart now.

Bitterness is the only thing holding me together.
I am so glad I read this ARC now and not later. More time to bask in how awesome and refreshing this story was. Although, this is the first book of a series and my heart will be in knots until the end when their story is complete.
Highly recommend if you love angst/New Adult bad boys/good girls/college stories.
This is my Ethan Holt (take note of that look in his eyes. hehe! SO fitting!) (He's the guy from Taylor Swift's Blank Space music video!)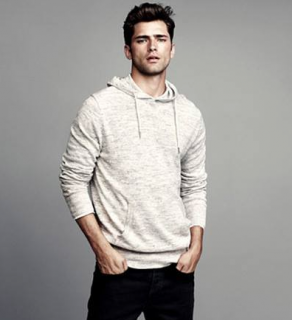 Buy the Book:
Amazon  |  iBooks  |  Barnes & Noble  |  The Book Depository  |  Kobo  |
---
Find Rebecca Berto's books on Amazon and Goodreads. Sign up to the newsletter.
Follow Novel Girl by the buttons in the top left corner of the home page.